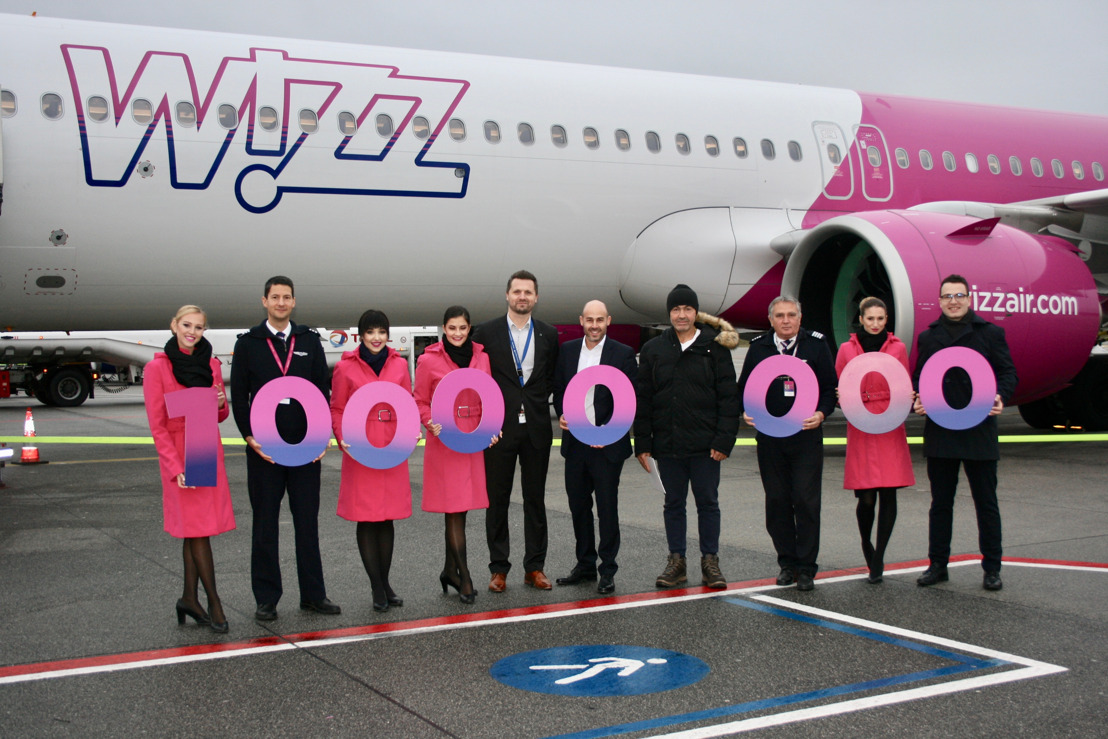 WIZZ AIR: 14 YEARS OF SUSTAINABLE PASSENGER TRANSPORT TO EINDHOVEN
WIZZ AIR CONNECTS EINDHOVEN REGION WITH 22 CITIES, INCLUDING 9 EUROPEAN CAPITALS
Tuesday, November 26, 2019 — Wizz Air, Europe's greenest airline and the largest low-cost carrier in Central and Eastern Europe, celebrated an important milestone at Eindhoven. The airline started its operations in the Netherlands in 2006, and has steadily grown its capacity ever since, putting already over 1.75 million seats on sale this year. Over the past 14 years more than 10 million passengers travelled on Wizz Air's low-fare routes from and to Eindhoven Airport. More than 54% of the passengers are using the services of WIzz Air to visit relatives and friends. Wizz Air is also responsible for an increasing share of number of travelers who come to Brainport region Eindhoven for business (15 percent) or tourism motives (22 percent). The lucky 10 millionth passenger travelled this morning from Budapest and was gifted upon arrival with a WIZZ value voucher.
Today, Wizz Air offers flights from Eindhoven to 22 destinations in 11 countries (Belgrade, Budapest, Bucharest, Cluj-Napoca, Debrecen, Gdansk, Iasi, Katowice, Kaunas, Krakow, Kutaisi, Lublin, Poznan, Riga, Skopje, Sofia, Tuzla, Varna, Vilnius, Warsaw, Vienna and Wroclaw) and the airline creates over 1,300 indirect jobs in associated industries*.
Andras Rado, Corporate Communications Manager at Wizz Air said: "Since our first Eindhoven flight in 2006, WIZZ became one of the leading airlines at Eindhoven Airport. Underlining our commitment to Dutch society, we launched in 2019 two new routes from Eindhoven to Krakow and Kutaisi. In the first 9 months of 2019, our cabin crew has welcomed over 1 million passengers traveling to and from Eindhoven, 13 percent more than same period last year. We keep on offering the lowest fares possible, always paired with an excellent on-board service, to our Dutch travellers and those visiting the Netherlands and Brainport Eindhoven, Europe's leading innovative region, in particular."
Eindhoven Airport's strategy focuses on a good network of destinations that offer added value to the Brainport region. Wizz Air is playing a very important role in this. In addition to many people who are visiting friends and family and business travellers, WIZZ also contributes to incoming tourism traffic to the Netherlands and the Eindhoven region in particular.
Dean Boljuncic, Head of Route Development at Eindhoven Airport said: "We are very honoured to celebrate this amazing milestone with one of the best partners of Eindhoven Airport. With Wizz Air our region has excellent connections across Europe, linking Eindhoven with 22 destinations including nine European capitals. Being well connected gives us the unique opportunity to develop and attract three important passengers groups to our wonderful region, from business travellers, passengers visiting friends and relatives, to inbound tourists. Wizz Air is also a leader at Eindhoven Airport in introducing the newest generation aircraft such as the A321neo, which is much quieter and emits considerably less CO2 than its predecessors."
Quieter aircraft with a smaller environmental footprint
The Wizz Air routes from and Eindhoven are served by state-of-the-art Airbus aircraft. The fleet has an average age of 4.5 years, thus being one of the youngest airline fleets in the world. WIZZ operates at the lowest CO2 emissions per passenger/km amongst all competitor airlines. As a result, it is the airline with the smallest environmental footprint in Europe. In October 2019, CO2 emissions per passenger per kilometre were only 56.8 grams, 2.0 percent lower than in the same month last year.
Wizz Air currently has a total of 270 Airbus A321neo, Airbus A321neo and Airbus A321XLR aircraft on order. With the new aircraft, the airline will continue to drive efficiency parallel to further decreasing its environmental footprint by one third for over the next decade. The Airbus A321neo incorporates the latest technologies in aviation. It offers a 50 percent reduction in noise footprint, a 20% reduction in fuel consumption, while also reducing nitrogen oxide emissions by up to 50 percent.
About Wizz Air
Wizz Air, Europe's greenest airline and the largest low-cost airline in Central and Eastern Europe, offers more than 700 routes from 25 bases, connecting 152 destinations across 44 countries. A team of more than 5,000 aviation professionals delivers superior service and very low fares making Wizz Air the preferred choice of 38 million passengers in the past 12 months. WIZZ operates an all-Airbus fleet of 120 aircraft. Its A320s are equipped with 180 seats, its A321s with 230 seats and its A321neo aircraft with 239 seats. According to the latest data of the Swiss airline intelligence provider CH-Aviation, Wizz Air has one of the youngest airline fleets in the world.
Wizz Air is listed on the London Stock Exchange under the ticker WIZZ and is included in the FTSE 250 and FTSE All-Share Indices. Wizz Air is registered under the International Air Transport Association (IATA), Operational Safety Audit (IOSA), the global benchmark in airline safety recognition. The company was recently named one of the world's top ten safest airlines by airlineratings.com, the world's only safety and product rating agency, and 2019 - Airline of the Year by Air Transport Awards the only international awards that recognizes the year's most outstanding performers in the aerospace industry in the most important categories.
* ACI suggests creation of 750 on-site jobs for every 1 million carried passengers per year
Yves Panneels Wizz Air Press Office Benelux, Force3 - PR & Communication